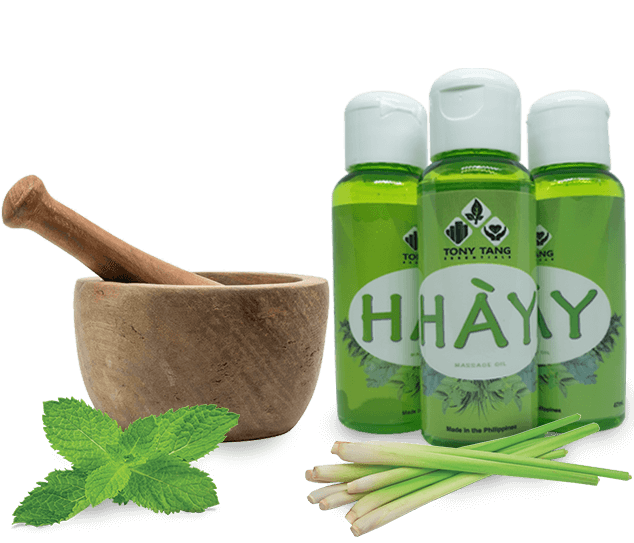 The #1 concentrated natural oil!
Multipurpose natural oil for everyday relief!
Hay Natural Oil is the leading solution for body pains, muscle pains, headache, migraine, sinusitis, travel sickness, rheumatism, arthritis, warts, ringworm & an effective mosquito repellant.
Say goodbye to multiple products. Why buy them all when you can have one (1) product for your everyday relief? Hay Natural Oil is a concentrated natural oil that have been laboratory-tested and proven for years to be effective remedy for multiple conditions.
Muscle Pain
The soothing effect of Hay Natural Oil is effective in soothing muscle pains, back pains & body pains.
Arthritis & Rheumatism
Hay concentrated oil is used to relieve arthritis, rheumatism & other joint pains, & inflammation

Dizziness & Sickness
The therapeutic aroma of Hay Oil can be used to treat dizziness, nausea and travel sickness.
Migraine & Headache
Hay oil can relieve headaches and migraines that are triggered by stress, lack of sleep & other causes.
Allegy
Hay concentrated oil naturally quells inflammation, inhibits anxiety which can benefit people with allergies.
Runny Nose
Hay oil contains essential oils that can help relieve runny nose and other symptoms of common colds.
Fungal Infections
Hay oil has strong antifungal benefits that can eradicate ringworm, nail fungus & other fungal infections.
Warts
Hay essential oil has astringent, antimicrobial & wound-healing properties that may help treat warts.
Mosquito Repellant
The soothing aromatic, menthol scent of Hay essential oil acts as natural repellent to mosquitoes.
Watch the video below to know more about Hay concentrated, natural oil.
One product with multiple benefits!
Don't take our words for it. Take it from our customers!

Hay Natural Oil has helped me with my sleeping problems. I use it everyday before sleeping helping me sleep easily. The menthol effect is very relaxing.
Best to use as massage oil!
The calming and soothing menthol effect of Hay Natural Oil can help relieve body pains & muscle pains.
This is my new favorite essential oil to use. Even my grandmother love this. We are buying regularly online and will continue to be. Easily one of the best in the market.